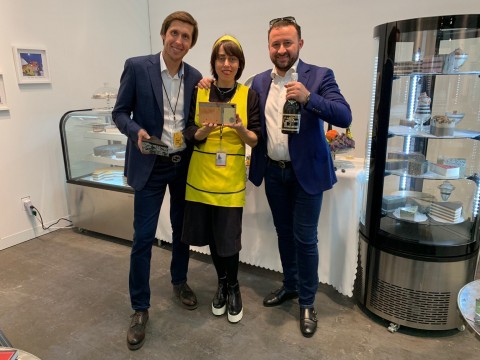 March 5-8, 2020 The world-famous exhibition-fair "The Armory Show" took place in New York. It is among top 5 most influential exhibitions of the year and is considered one of the best in America. The event was attended by many international experts, including a well-known critic of modern art, Pulitzer Prize winner - American Jerry Saltz.
It is worth noting that among 183 participants from 32 countries who presented their works, this year a Ukrainian gallery with a mono project by Zhanna Kadyrova - "Market" was presented.
After receiving an invitation from the administration of the "Armory Show" and the Ukrainian gallery, Vladimir Pirus - Chairman of the Board of the "City Development Fund" together with colleagues visited the event and shared his impressions:
Many important meetings were held with various art experts. In addition, we had the honor to see the opening of a new gallery of Larry Gagosyan (by the way, the most famous art dealer in the world), to get real inspiration from the MoMA Museum, which houses one of the largest collections and is considered the best among museums of modern art.
Today, together with our partners, we are working to create a fund that will develop and support Ukrainian art.
Our goal is to promote modern art, organize fairs, exhibitions, attract qualified experts and professionals. We want to open up Ukrainian art to the whole world, to make it even more popular not only on the territory of our state, but also all over the planet. Now in Ukraine there are several well-known names who are written about in art magazines, talked about in the art world and invited to such events. But there are many more talented masters and artists. These are people who have achievements and can take their positions on the world map of contemporary art with dignity.
Therefore, we must represent Ukraine with dignity and form our own market for contemporary art. "- said Vladimir.