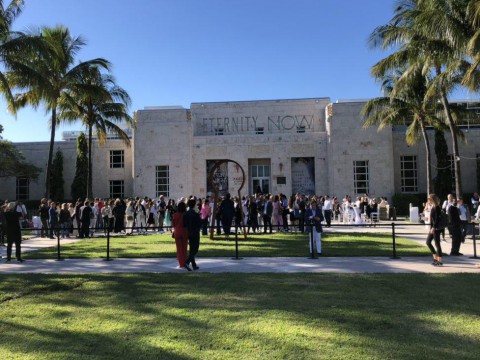 From 5 to 8 December, the city of Miami (Florida, USA) hosted a cult exhibition
Art Basel Miami
and turned into the center of world art.
Art Basel Miami
is one of the world's most important exhibitions of modern art and the epicenter of art events in North America.
It should be noted that
Art Basel
is not only a week of exhibiting sensational art. The event plays a significant part in the development of the city, for example, it demonstrates modern real estate and promotes new investments in the development of the city. Let alone the number of tourists attracted to the area. -
The exhibition
Art Basel Miami
is a great example of how art can influence the development of the city. Besides, the event promotes and gathers in one city a large number of potential buyers who are interested not only in masterpieces of art but also in architecture, design, luxury real estate. Within a week, the most influential and wealthy investors from all over the world visited Miami, creating the perfect opportunity for realtors to show their best condominiums, apartments and elite projects.
This way, the art became a pretext for concentrating investors in one place. Moreover, such events as
Art Basel
or permanent museums or galleries with masterpieces attract the attention of not only investors but also tourists, artists and people with ideas who are ready to create and work for the benefit of the city.
The need to develop and popularize Ukrainian art has led to the need to find various ways of cooperation, one of which is to attract the world's best expertise in the art market. That's why the Chairman of the Board of PO "City Development Fund", Volodymyr Pirus, took part in the international art forum. He held negotiations with representatives of the management of the most famous art platform in the world,
Art Basel
, namely with the Director of Business initiatives and Partnerships, Patrick Foret, who shared his experience in the field of art and agreed to join the team of "Business for Smart Cities – 2020".
The art is more and more becoming the part of the city growth, new galleries, museums are ready to promote the further enhancement of the city as a cultural center. Why it happens and how exactly art influences the city development will be discussed further during the 2
nd
International Expo-Congress "Business for Smart Cities", that will be held in April 2020.